TikTok is the home of life-saving fashion hacks. From drying clothes fast with a bedsheet, to using a hairband to alter a baggy dress in seconds, there's no end to the game-changing fashion advice you can find on the platform.
In a short clip shared on Sunday, user @audreekate explains how to hide your bra strap when wearing a keyhole back—a tip that will no doubt save countless outfits this summer.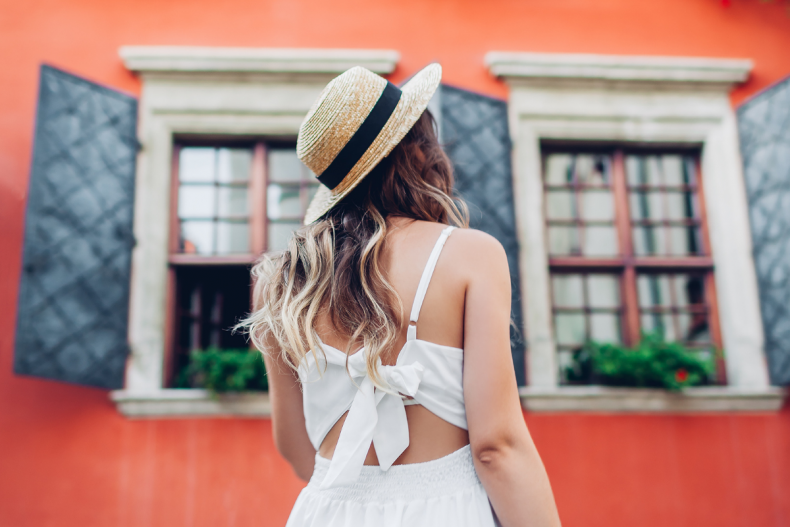 Using herself as the model, in the video, audreekate demonstrates how to tie the straps so that your bra is completely hidden, allowing the backless style to shine.
With her back facing the camera, audreekate said: "If you're wearing one of these dresses that has a keyhole tie in the back, but you want to wear a regular bra, here's how to hide that backstrap."
Audreekate then takes the two straps and starts to tie a bow. She takes one strap underneath and slides the other under the bra strap, before finishing tying the bow.
The end result is a bow that covers the bra strap, allowing you to look your best while feeling supported.
Although audreekate demonstrated the technique on herself, she also had suggestions for those who need an extra hand.
She added: "If you can't do this on yourself, no worries. Save the video and show it to your boyfriend, husband, girlfriend, mom, neighbor, whoever and they can help you do this."
Backless dresses first became the rage during the 1930s. In America and Europe, women's clothing designers started to embrace more provocative silhouettes, a stark contrast to the "flapper" dresses of the 1920s. Along with form-fitting materials like silk and long, flowing shapes, backless dresses were designed to highlight a woman's curves. Historically a favorite amongst Hollywood stars, backless dresses have been seen on A-listers from Marilyn Monroe to Zendaya.
Cut-out styles have returned for 2022, but modern designs are not limited to highlighting your back. For the past two seasons, cut-out styles—whether focusing on waists, hips, arms or necklines—have been a catwalk stalwart, popping up in shows for Versace, Victoria Beckham and Saint Laurent.
Cut-out or backless designs can prove problematic for women with larger breasts, those who don't trust "lingerie tape," or feel uncomfortable going braless. So far, audreekate's hack has received almost 8,000 likes, with users stunned that there's such a simple solution to this widespread problem.
"This is life changing," said user9480600825435.
"Genius," wrote Natalin Marroquin.
"Thank you so much," commented NORELIS FLORES.
Newsweek has reached out to audreekate for comment.
https://www.newsweek.com/woman-shares-life-changing-bra-hack-keyhole-dress-fans-summer-1715305